These days, many people take advantage of the benefits of digital technologies at work to get things done regardless of opening hours or to delegate tasks to artificial intelligence. For people with disabilities however, technological innovations offer far more than convenience; they open up new opportunities to live their daily lives independently.
E-voting also offers this kind of opportunity. Via the electronic channel, many people with disabilities can cast their votes independently, in a way that ensures voting secrecy. The accessibility of the voting portal is an essential precondition here.
For this reason, Swiss Post has had its new election and voting portal audited by the "Access for all" Project and has then implemented the findings from the audit. Now the application meets conformity level AA as set out in the Web Content Accessibility Guidelines (WCAG). This means that people with various disabilities – visual, auditory, physical or cognitive – can use the voting portal accessibly. The Audit Report can be viewed on the specialist platform GitLab.
More added value for blind people


The example of Susanne Gasser shows how e-voting is a real need. At the age of eight, the 45-year-old physiotherapist's vision fell to four percent, and eleven years ago she became completely blind. She says: "I'd like to be as independent as possible because unwanted dependence is tiresome. For years I've been able to transfer money electronically, but in 2023, I'm still reliant on people with unimpaired vision for voting. My father helps me, puts the cross and signs the voting card. Sometimes I wind him up a bit and ask if he's filled it in the way I've asked! I trust him, even if politically we don't always have the same opinion. With e-voting, I'd be able to cast my vote independently – voting secrecy would be guaranteed. I'd use it straight away." Susanne Gassner lives in Glarus so still cannot use e-voting at the moment. Only the cantons of Basel-Stadt, St. Gallen and Thurgau are offering e-voting from June 2023 for a proportion of voters.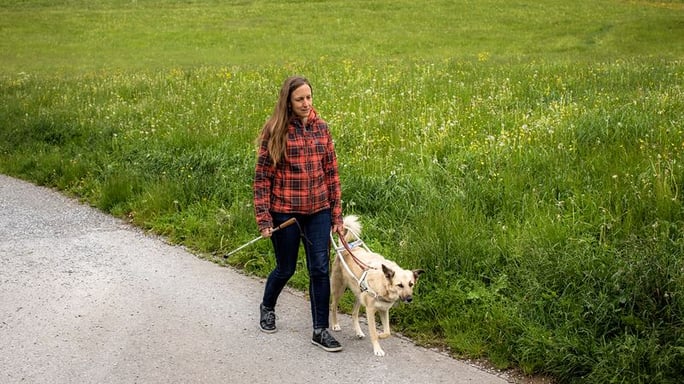 Susanne Gasser
Voting cards still on paper


An accessible e-voting system is one element that contributes to independent vote casting by people with a visual impairment. Another is an appropriately designed voting card. For reasons of security, voters continue to receive their e-voting cards on paper and by post. For people with a visual impairment, this presents a hurdle. The voting card can be designed in such a way that the necessary codes for e-voting can also be read independently by blind people using a reader. Of the three cantons that are introducing e-voting in June, the canton of Basel-Stadt also offers this explicitly for people with disabilities living in the canton. The canton is working with those affected to check how the voting card can be optimized to make this process as easy as possible.


The latest news from the e-voting community programme


- New release 1.3 available: Swiss Post has published Release 1.3, which, with the corresponding approval, will be used for the National Council elections. In the new release, the voting server is greatly simplified and the architecture is standardized. Swiss Post refrains from using certain libraries and can therefore considerably reduce the scale of the full source code. This improves the possibility of testing for third parties.

- By mid-May, Swiss Post had received 249 findings and has paid out roughly 155'000 francs in rewards for confirmed findings. The current status of findings is published regularly in this blog.